Bring it all together
Only with Appy
Wedding planning is going to keep you busy enough. Let us help where we can! There's no more need to patch together tools for your website, app, RSVPs, photo sharing, emails, spreadsheets, messages…consolidate it all—stylishly!

Plan, manage and share easily and smartly from your phone or desktop.

Cheers!
Look good instantly
Leave it to the experts
Set the stage for your guest communications. Choose from our exclusive library of designs, including those by Carolina Herrera, Citrus Press Co. and more. Change your design as often as you like, your content updates instantly.

There's no need to code or hack. Enter all your details once and we make it fit beautifully everywhere—by design.
Customize Content
Edit At Your Whim
Our signature widgets serve as an easy starting point. Include text, photos, directions, hotel bookings, childcare and itineraries, or write in your very own.

With inline creation, you simply click wherever you want to edit and start typing. Make updates easily from any device.
Conquer Milestones
Today and Tomorrow
Plug Appy into any point of your planning process. Ten months until your wedding day? Send notes to request mailing addresses. Three months left? Get your RSVPs in...

Appy integrates seamlessly with each new task in your timeline. We also go beyond the celebration and serve as your digital wedding keepsake.
Correspond Seamlessly
From Save The Date to Thank You
Streamline all communications in one fell swoop. Appy provides you with digital stationery that perfectly coordinates with your design and populates contacts from your guest list and RSVPs.

Send save the dates, reminders, personalized notes and thank yous. Save a tree and your money!
Manage Your Guest List
For Every Scenario
Have multiple events with different guest lists? No worries!

Manage every plus one, family, child and out of towner. Simply specify which events are private to whom.

No more awkward conversations.
Répondez S'il Vous Plaît
Take Charge Of RSVPs
Make the most of the opportunity to have guests answer all of your questions when they RSVP. Which entrée would you prefer? Which hotel are you staying at? Song recommendation for the DJ?

Send guests reminders as needed and get notified as replies come in. Collect responses and export to share with vendors. Voila, you've covered everything!
Be Travel-Ready
Welcome Warmly
Curate your personalized travel guide from where to eat to what to do.

Integrate our smart widgets for hotel bookings, local stylists and Uber to let guests choose the right services for their budget.
Hold onto Memories
Before, During and After
Want to re-live it all? Allow guests to upload photos to capture scenes in real time during the big day, directly from your app. Go epic and project it on the big screen as they share!

Guests can post a message to your guestbook and send you a virtual toast, complete with sparkling bubbles and cork popping!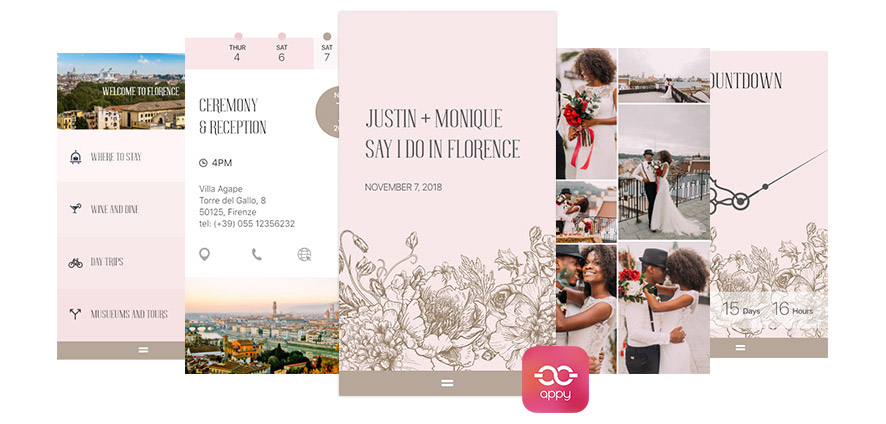 Download Appy Couple app from the App Store or Google Play. Click DEMO on the app to get a taste of Appy on your smartphone or tablet.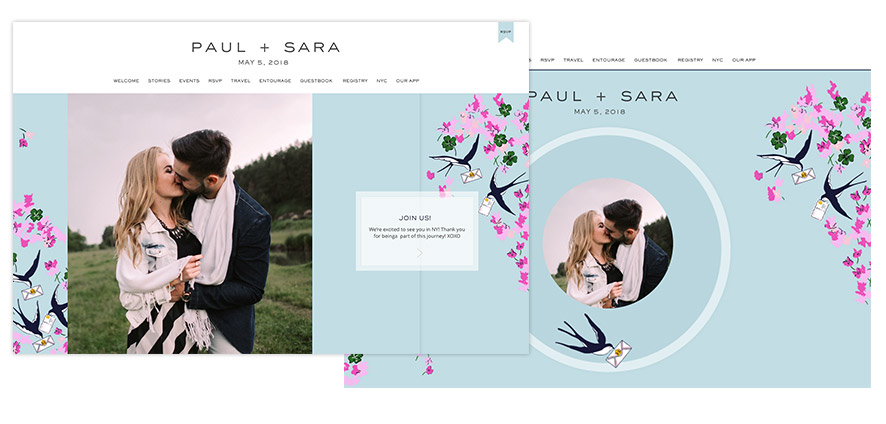 You have 2 layout options: the multi-page editorial style and a modern single-page layout. Switch back and forth seamlessly at any time.