TIPS
How to ask for cash as a gift on your wedding website registry
For most engaged couples, it's an awkward thing for which to ask, but one they appreciate (and need) far more than a beautiful vase. Despite this demand, the question remains: How do you let your guests know you'd like cash without sounding tacky or crass? Here are four tips to help you do this tactfully and elegantly.
1. Give your guests a safe, easy, and beautiful way to give.
Now that modern technology has finally caught up with the wedding industry, couples can request cash gifts tactfully. At Tendr, for example, which is a new registry that elevates cash giving, couples have the option of using beautiful digital stationery and an informative dashboard that lets you track every gift and even send out thank you notes — really important in closing a timely loop when cash is involved.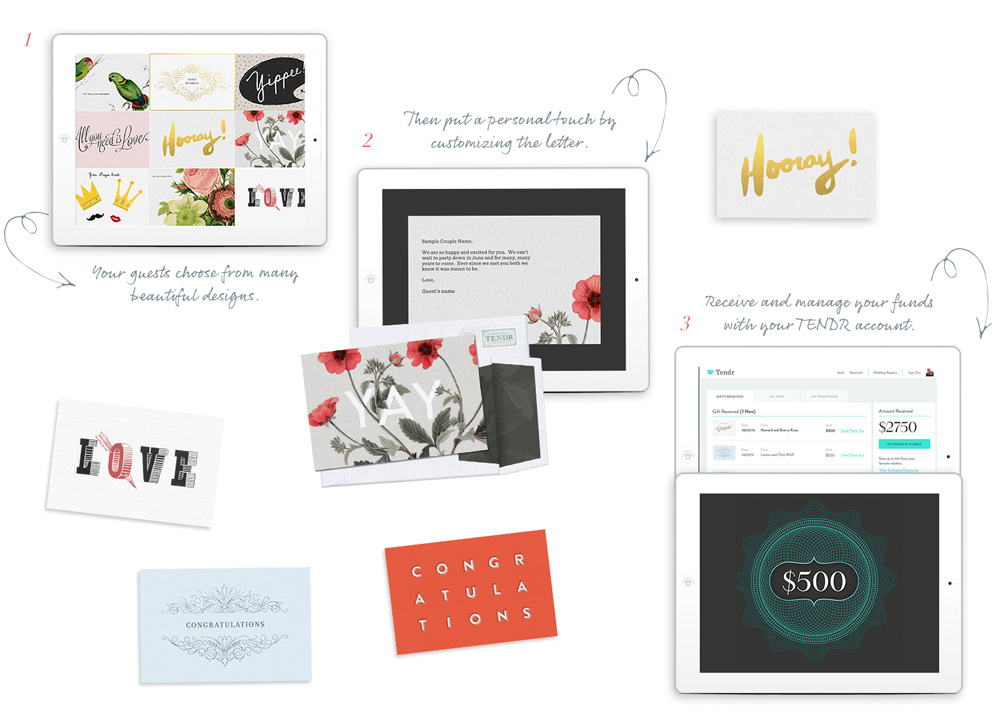 2. You don't have to push it.
It's totally acceptable to register at more than one place. In fact, it gives your guests a choice. We personally suggest 3 registries, one of which can be a "Cash Only" option.
3. Be sincere.
You really don't have to tell your friends and family why you want cash. However, many couples do. Whichever way you choose to do it, be honest and sincere. Don't tell them it's for a bungee jumping excursion or a cooking class if you're not sure you want to do those things. It's bound to make for an awkward conversation later.
On the other hand, if you are saving for something big, it's nice to let your guests in on your goals so they know what they're contributing towards.
4. Pick up the fees.
There are costs associated with cash gifting and someone needs to pick up that tab. The most common charges to expect are the credit card and bank processing fees. The gracious option is to pick up these fees, instead of passing them along to your guests.