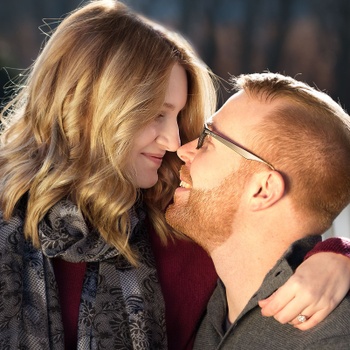 Four and a half years ago, we first met at the Lost Dog Cafe in downtown Binghamton when our two groups of friends met for drinks. We only exchanged a few words that night but fast-forward 6 months and the same groups of friends crossed paths while out for Parade Day (St. Patrick's Day parade). Pete wasn't with his friends that evening, but with their help, Melissa convinced Pete to join in on the fun. Though nervous at first, we started chatting and the rest is history! Maybe it's the luck of the Irish!
A few years ago, on a trip to North Carolina for a wedding, we stopped at a winery in the hills of Virginia with spectacular views. From time-to-time we talked about revisiting the winery, but never made the time for the two-hour trip. Eventually, when we started to talk about getting married, Melissa thought the winery would be the perfect place to propose (but never mentioned it to Pete).

As it turns out, Pete had the same idea! One weekend in September, Pete suggested taking a drive to the winery. Hopes were high for a beautiful day, but things didn't end up going so smoothly. After a series of unfortunate events, that included a live gothic-country band and a very unhappy patron, we decided that the winery wasn't the place to be that day.

To cheer ourselves up, we drove to our favorite little town in Virginia to go out to dinner. After laughing about our day and heading across the street to get ice cream, we went and sat on a bench in the center of town. As Melissa was still finishing her ice cream, Pete nervously went down on two(!) knees and proposed.