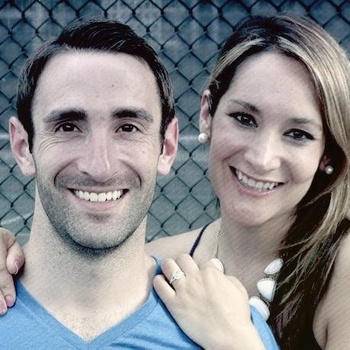 On Devin's 33rd birthday, he and Tricia moved into a new apartment in the West Loop neighborhood of Chicago. This was officially their first place together and a big upgrade from the 650 square foot convertible they had spent the last year at.

A few days later, on July 4th, Devin and Tricia started off a typical day together. They walked Revie, went to the gym and Tricia made Devin his favorite breakfast - eggs with New Mexico red chile.

Before heading to a friend's BBQ, they opened a bottle of champagne (Tricia's favorite) on their patio to kickoff the holiday and celebrate the move. It was then, in their new home overlooking the city that Devin got down on one knee and popped the question to Tricia.

She said "YES" of course and then there were fireworks.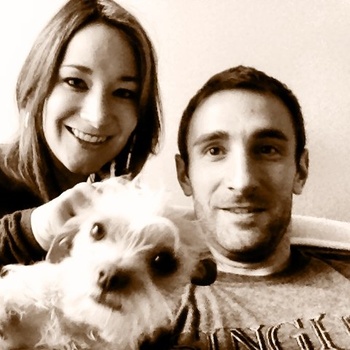 Early in the relationship, Devin started showing Tricia signs of his loyalty, commitment and fondness of furry creatures.

One summer night Devin and Tricia came home after having some drinks with friends. Devin, being the gentleman he is, offered to take her dog, Revie, out for a late night walk. Tricia thought this was a great time to go to bed and fast asleep she went.

Unfortunately Devin did not have keys to get back into the apartment and Tricia was not waking up anytime soon! After several failed attempts (kicking the door, calling , texting, bribing the door staff) to get back into the apartment, Devin decided to walk a mile and a half to the closest red line where he and the 8lb dog took a 3am train ride back to his apartment.

Upon waking the next morning Tricia had NO idea where Devin and Revie were. Thankfully she figured it out and immediately went to scoop up her two nightwalkers. That morning started the tradition of the Mercadito brunch (on Tricia).

After that night, Devin got a set of keys and him and Revie became inseparable.

Tricia still passes out while Devin walks Revie late at night.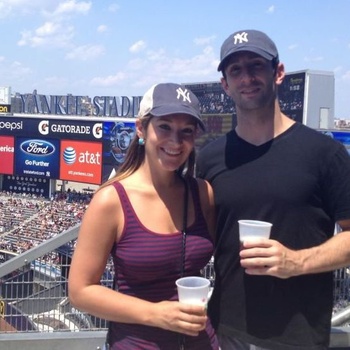 It was a few months away from Devin's 32nd birthday and Tricia knew she wanted to do something extra special for him.

Devin had never been to the Big Apple and it was a dream of his to see a baseball game at Yankees stadium. Using some points she had earned from traveling for work, Tricia booked flights, a hotel and bought tickets to see the Chicago White Sox play the New York Yankees for his birthday.

On a weekend when Devin's parents were visiting, Tricia decided it was the perfect time to surprise him. That morning after breakfast, Tricia handed Devin an envelope, addressed to him from her. Devin's reaction to the tickets was priceless! He had a permanent smile on his face up until their trip. And Tricia earned some major Brown-ie points.

Devin and Tricia had a great time that weekend. They visited Central Park, walked the Brooklyn Bridge and of course enjoyed some hot dogs while watching baseball.